Roses are planted around this time of the year while the weather is above freezing but not yet too hot. Thinking about flowering plants is an everyday past time for me. I grew up surrounded by flowers, everywhere I went, on the way to the bus stop, at the office, on school grounds, everywhere...fresh, flowering, fresh-cut, fragrant. Flowers has become an obsession with me, and, I'm guessing, with millions of people around the world. Who can resist, anyway? Below are three wreaths featuring pink flowers that are currently for sale in my shop. They would make quite an impression for Mothers Day, birthdays, housewarmings, and specialty room makeovers.
This wreath features cool pink roses on a gray background with coordinating pink string and sheer ribbon laced neatly and tied tight into a bow. Very sweet for Mother's Day, which, I think we all know, is Every Day. Click photo for details.
An extremely popular wreath, I just finished this a few days ago. It takes about 24 full hours to get it made. The availability of quality berries is a problem, so I've had to improvise by sourcing and then painting my own colors. It is really lovely. Click photo for details.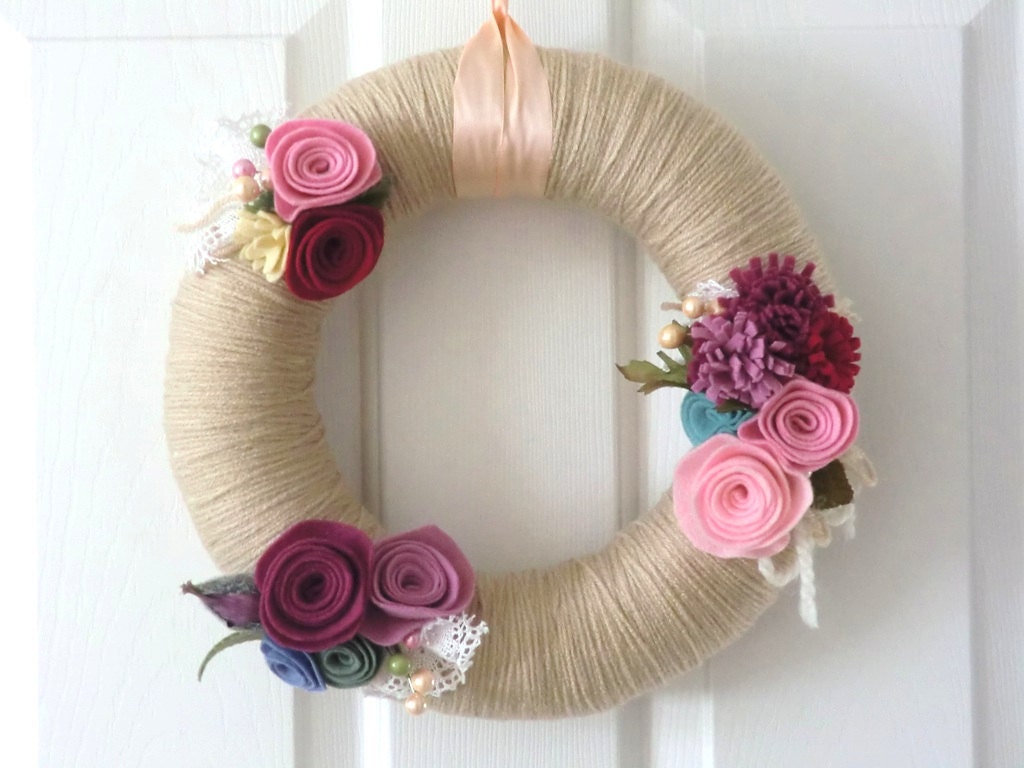 The sandy tone of the yarn brings a vision of a camel trekking across an exotic desert made pink by the setting sun. The pink and mauve roses compliment the neutral hue, even the tiny turquoise, lavender and green rosebuds combine to make this a sweet symphony. Make mother happy on her Day. Click photo for details.