While I am downsizing my art collection, you may want to add to or start your own. The following wood carvings have been in my family's possession for over forty years. They are all in excellent condition. If you can offer more background information on them, feel free to comment.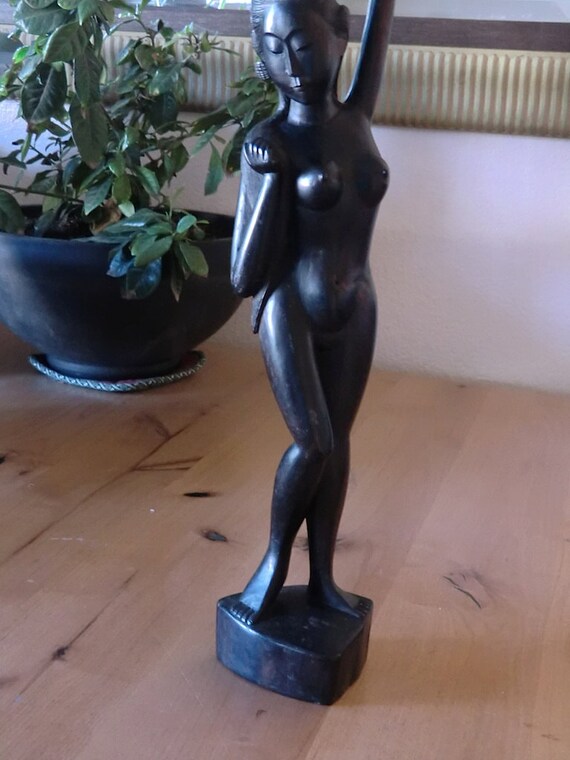 Beautiful museum quality carving of a nude bather standing with one arm holding back her hair and right hand fixing the ends of her long, straight, black hair. Stylized features and a pretty flower placed at the top of her head. The carving conveys the lovely curves and smooth skin of a young woman. Country of origin: Bali. Black, hard wood. No markings. Height: 15 inches tall (38 cm), base is 4" x 3.5 " (10.5 cm x 9 cm). Weight: 1.5 lbs (.75 kilograms). SOLD.
This wood panel is from Bali in the early to mid-20th century. The artist didn't sign it, as most Balinese carvers did not seek fame. It is a rare and beautiful piece and is for sale in my Etsy shop where you can find more images.
If you are interested learning more about artwork from Bali, I highly recommend this site:
Art-From-Bali.com. It contains photos of beautiful individual pieces and entire collections of Balinese wood carvings and biographies of Balinese artists.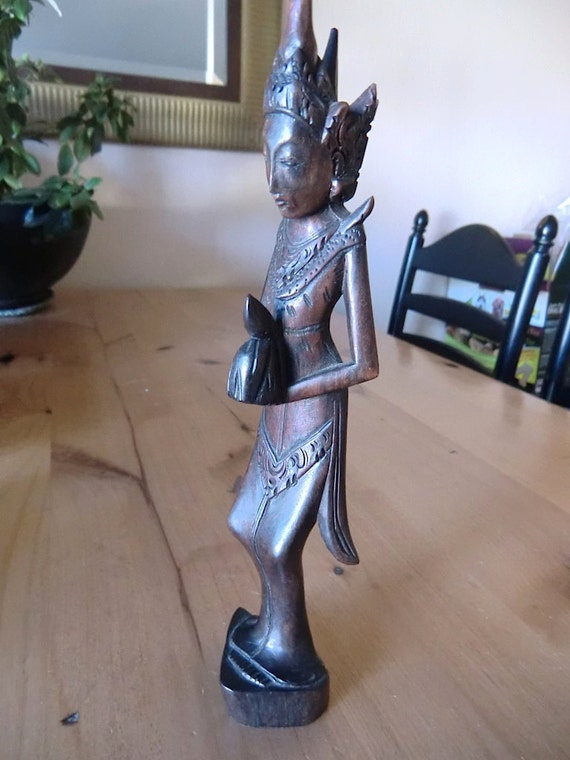 Balinese girl in elaborate headdress and dance costume. I love how the flaps of her skirt flare out on both sides. and her toes unexpectedly peeking out from under the long folds of her skirt. Never been able to figure out what she's holding in her hands, though. Place of origin: Bali.
Weight, approx. 6 ounces. Height: 9.5 inches (24 cm), diameter of base: 2 inches (5 cm).
>> For more details or to purchase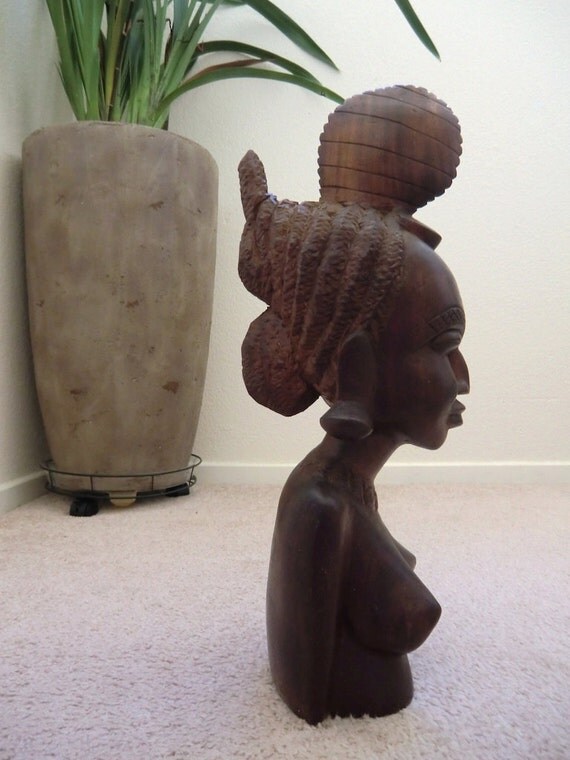 Portrait of a Young Woman. A divine addition to your collection of African carvings. Exceptionally tasteful rendition of a female in headdress. Beautifully carved female bust with stylistic hair, head piece and earrings. Full, three-dimensional realistic proportions. You can see the marks of the sculpting tools in the hair, around the eyes and neck, the headdress, yet the body is smooth and rounded and realistic.
Coiffure is identical to that characteristic of the Fulani tribes in West and Central Africa. At least 40 years old. Weight: 3.5 lbs (1.5 kilos), height approx 20 inches (55 cm), base is 5" x 3" (12.7 cm x 7.6 cm).
For more details or to purchase